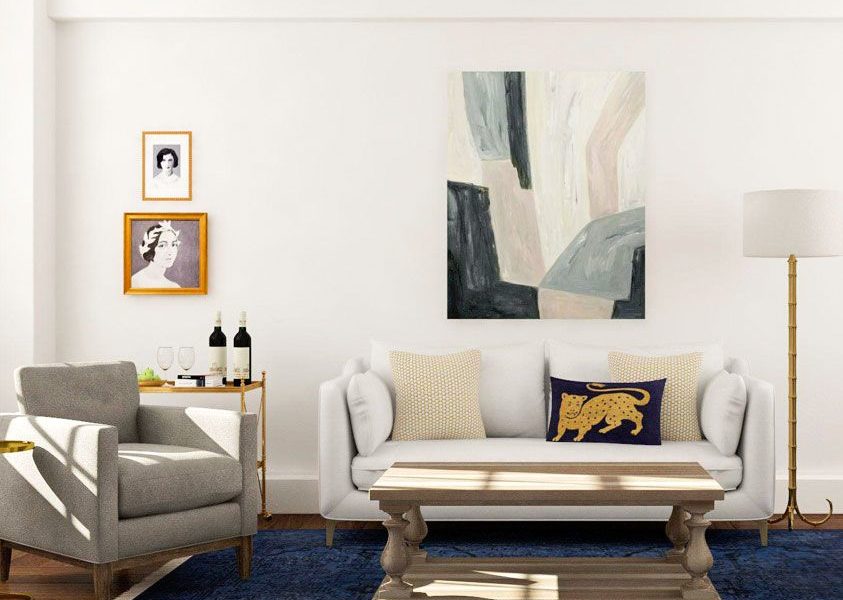 Living Room Ideas: 15 Easy Ways To Refresh Your Living Room
Designing your living room can be difficult, there's no getting around that. Picking a color scheme, settling on a budget, and finding furniture, you've got your work cut out for you. Your living room is also likely where you spend most of your time, so the stakes are high – you want this room to look nice!
Now that Spring is close, it's the perfect time to turn your home into a space you love. To help, we rounded up 15 of our all time favorite living room ideas to help you find an easy place to start.
We rounded up 15 of our all-time favorite living room ideas to help you find an easy place to start.
1. Try a Fresh Coat of Paint
Consider painting your walls with a new, inspiring color color to reinvigorate your living space. It may seem like a big commitment, but painting your walls is a simple and budget-friendly update that can totally transform the look and feel of any space.
2. Dabble in a New Trend
The velvet trend has been going strong since last fall when it was deemed the "it" fabric for 2018. Even if you don't follow trends, there are so many reasons to bring velvet into your space. Not only is it a timeless material, velvet also adds a lot of warmth and texture to any interior and works with any style.
3. Tuck in a Play Nook for the Kids
Carve out a special, playroom nook by pulling your sofa away from the wall and using either the side or the back to divide the space. This gives the kids a designated area to play while grownups can watch over from nearby.
4. Stay in Budget by Refreshing Your Accents
When it comes to easy and budget-friendly living room ideas, we are all for switching up your accent pieces. Swap in some new throw pillows, hang a new piece of art, or unfurl a new rug.
All these little details have a big impact on how your space looks and feels.
5. Expand Your Small Space with Flexible Furnishings
Furnishings that are flexible are great options for making the most out of small spaces.
Try a coffee table with interior storage or use a bookcase as a room divider. Ottomans or stools also double as side tables, and poufs can work double-time as foot rests or extra seating.
6. Mix Vintage with Modern
Vintage pieces are a great way to infuse your space with some old-world charm and texture, and make your home feel unique and full or character. Try repurposing something like this old, vintage steamer trunk as a coffee table.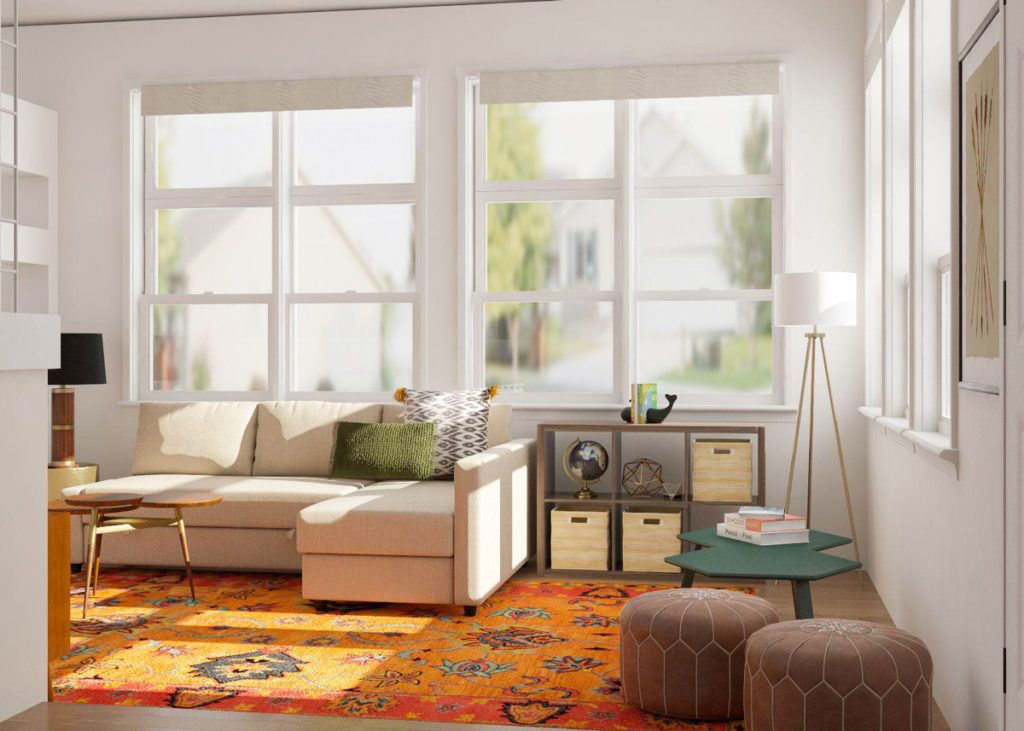 7. Find the Best Media Stand for Your TV Size
It's a simple fact that you really just can't enjoy a good TV binge session with a sub-par setup. That means finding the right media unit for your sized TV is super important.
Our rule of thumb is that your media stand should be at least a few inches wider that the base of your TV, so that there are a few inches of breathing room on either side then the TV is placed on top.
8. Add some Whimsy with an Animal Portrait
Looking to add a little humor into your home? This portrait of a highland cow named Gertrude, might do the trick. Between her shaggy mop of hair and her slightly tilted head, you can't help but fall in love with this bombshell blonde.
9. Turn an Awkward Nook into a Something Useful
To make the most out of a small nook, look to maximize the space, vertically. Compact furnishings that don't take up too much floor space are key; a wall-mounted fold-out desk with a slender chair easily turned this empty spot into a petite yet practical workspace.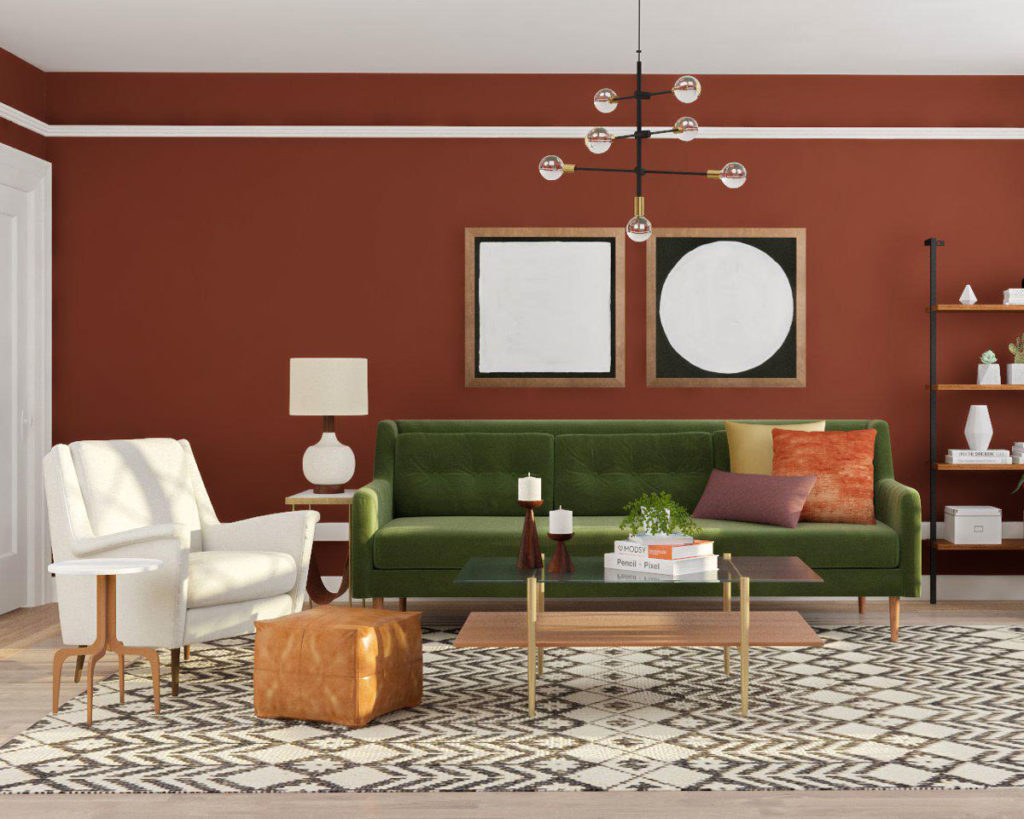 10. Find the Perfect Coffee Table
One of the most challenging living room ideas can be finding the right coffee table to go with your sofa. You've got size, shape, and style to consider among other things. Instead of imagining how these two living room staples will look together why not try a few options on instead?
11. Tuck a Desk Behind Your Sofa
This is a nice solution if you don't have an extra room to transform into a home office, but still need a place to focus. You can also use it as a homework station for the kiddos or a place to pay your bills online while watching the game.
12. Amp Up Your Neutrals with Pops of Color
For a versatile color that's not a neutral, blue is your next best bet. Try layering every shade of it into your neutral living room for an exciting new look.
Consider pairing blue and gold, a metallic, for a stylish and sharp alternative to classic blue and white. The result is a pairing that's always elegant and modern.
13. Restyle Your Storage
Whether you call it a credenza, sideboard, or even a buffet, these enclosed storage pieces are great for stashing clutter and can be an amazing focal point.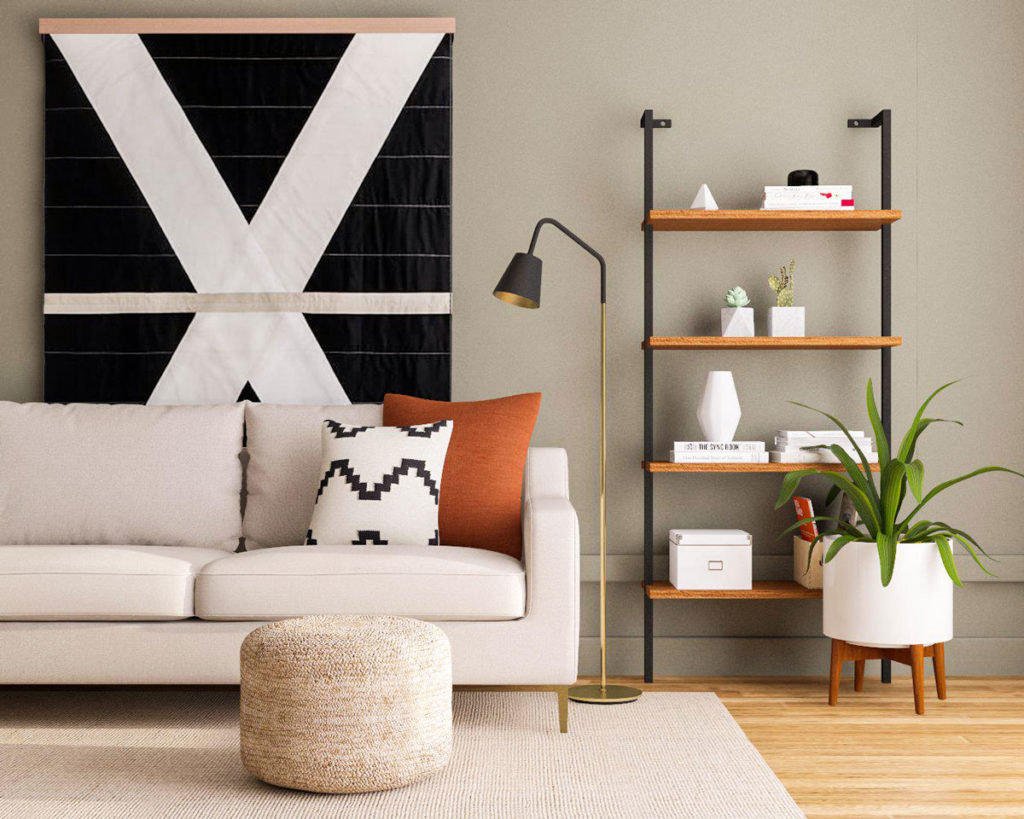 For an elegant look, start with a pair of matching lamps placed on each end, and arrange a few accessories in the middle. Center a large artwork above to create the pyramidal composition that draws the eye skyward.
14. Take the Plunge, Buy a Sofa Online
Would you believe us if we told you that you can determine if a sofa is comfy online?
Do you want a sofa where you can sit cross-legged and enjoy all the poor-posture slouching you want? Look for an option with a greater seat depth. Do you like to lean back against your sofa's armrest and stretch out? Be sure to pay attention to the arm height to ensure maximum comfort.
Think about how you really use your sofa and look for the factors that will make it most comfortable for you.
15. Prop Up Some Oversized Wall Art
For an eclectic approach to decorating with oversized wall art, prop a large piece on the floor against a wall.
Propping wall art lends a sculptural feel to any space. Art hung on the wall just can't match that.