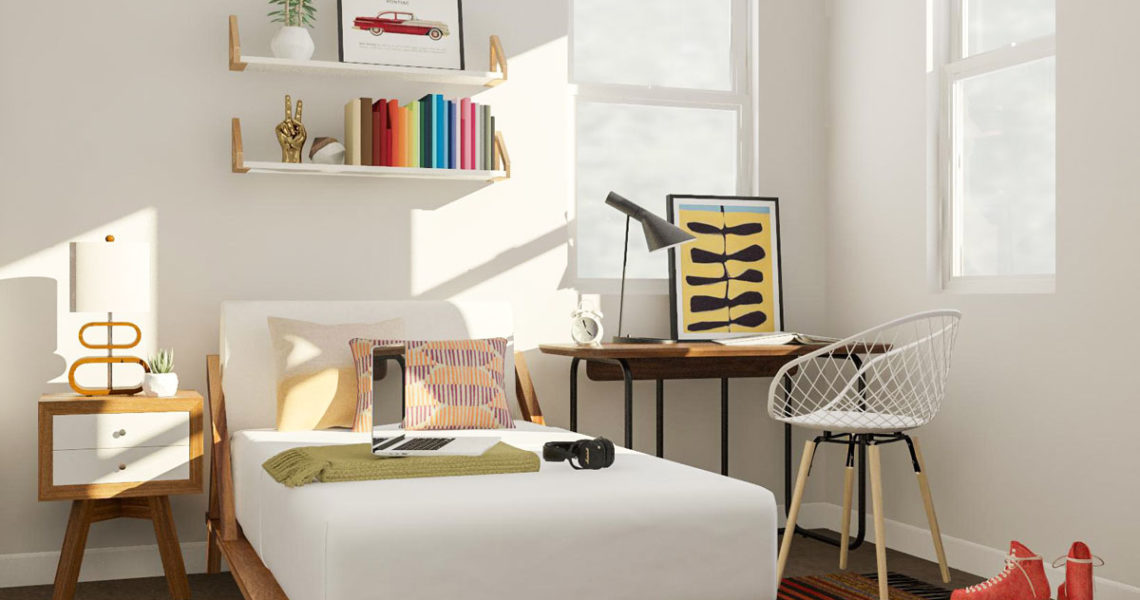 7 Design Hacks For When Your Bedroom Is Also Your Home Office
Wouldn't it be nice if your morning commute consisted of simply waking up and walking a few steps across the room? With the work-from-home trend on the rise, that dream is becoming a reality for many people!
And whether you're working full-time from home, need a place to study, or just want a dedicated space that isn't your sofa to answer emails, a home office is a great solution to limit distractions and get your brain into work-mode.
Unfortunately, not everyone has an extra room they can dedicate to a home office. But, with a little creativity, you can create an office space in your bedroom! Surprising as that may sound, your bedroom can be that peaceful spot you need, away from the distractions of the main living area. Ready to get to work? Here are 7 ways to create a bedroom that also doubles as a comfortable and stylish office.
Master Bedroom Office Design
If you have a spacious master bedroom, consider incorporating a full desk set-up for your workday. You can make use of an open wall or, even better, a wall with windows because who doesn't love working with a view?
But don't let your workspace cramp your bedroom style. Make sure you have enough space to walk around and pick furniture that won't be an eyesore. Look for a chair that tucks under the desk to create more space when you're not working. And a desk with plenty of storage to tuck away supplies will help you strike the perfect work-life balance, visually.
Small Bedroom With a Desk Space
If you've got only a small bedroom to work with, try swapping out your nightstand for a desk. This gives you all the functionality of both a desk and nightstand in one and it also means you have one less furniture piece to purchase! If you go for this set-up, be sure to place your reading lamp on the inside edge of the desk to keep it accessible for both working and reading in bed.
Home Office With a Sofa Bed
Guest rooms are great, but they can feel like a waste of space the other 350 days of the year when you don't have visitors. If this sounds familiar, make your guest room work year-round as your home office!
You can either go the route of a full-sized bed with a desk set-up, or – if you plan to use this office on the regular – try designing a space with a sofa bed to create a fully-functional office that can quickly convert to a guest room when needed.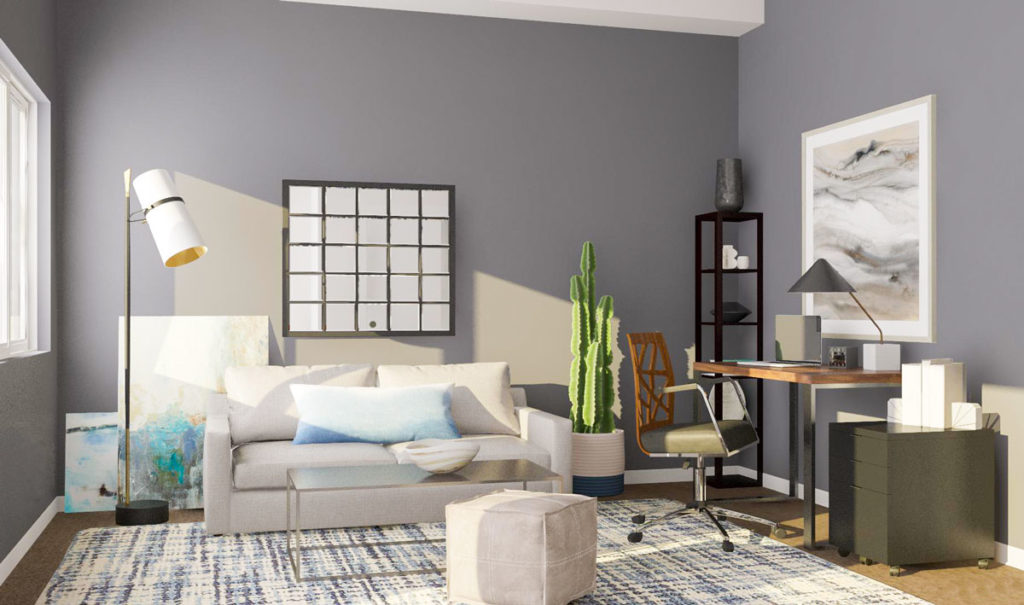 Office With a Daybed
If you have a room that's super tight on space, consider an office with a daybed. Without a full-size bed, you can incorporate a larger desk, a bookshelf, and a comfortable chair without feeling too cramped. The daybed has a smaller footprint and offers a place to relax during working hours and the flexibility of a sleeping space for the occasional couch-surfing guest.
Bookcase With a Desk
If you think you absolutely don't have room for a workspace, think again! This design sneaks an office space into even the smallest bedrooms or living rooms, and it can even fit into an entryway or pass-through space. What is this magical solution? A wall-mounted bookcase!
Many bookcase models come with an option that features a desk in place of lower shelves. This makes for a handy workspace that won't take up extra floor space. This is also a great way to combine functional storage with a workspace. Now all you need it to find a comfortable chair (or steal one from your dining room table) and voila! Your very own home office.
Workstation in a Kid's Room
Kids rooms can quickly get cluttered up with all kinds of stuff – but there's no arguing that your budding scholar needs a proper workspace, too! If your kiddo doesn't need a huge desk, you can try tucking a simple and sleek option into the corner. Even take a cue from small spaces and make it double as a nightstand. This way, they have a designated place to tackle homework or get creative with some arts and crafts.
Desk Under a Loft Bed
Got a teenager who wants their space to feel grown-up and trendy? This cool, loft bedroom office design might do the trick. The empty space below the top bunk is the perfect spot for a cozy desk set-up that will also save floor space. This is also a great way to extend the life of the bunk bed you just bought a few years ago!